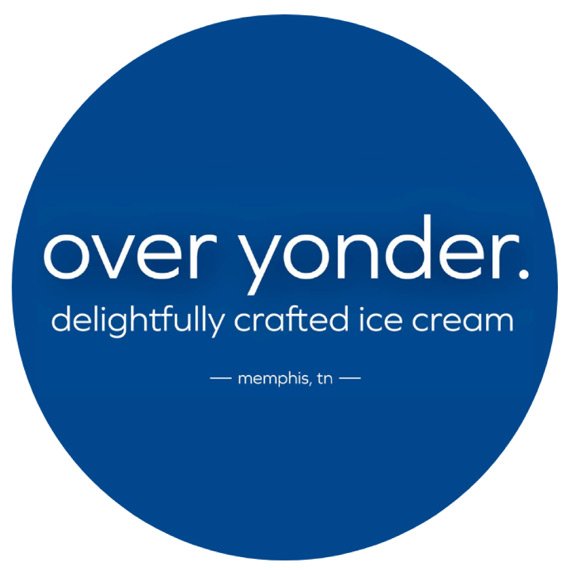 Over Yonder Ice Cream
The founder, Schuyler O'Brien, started making this ice cream while he was in culinary school. He would often stay after class and test different flavors in the pastry kitchen. Moving forward in his career, he always continued to make the ice cream at home, making so much that he burnt out two home-commercial ice cream machines. In that time, he worked in many restaurants, resorts and catering; pursuing his career with companies like Walt Disney World, AM Restaurant Group, and Blackberry Farm. The passion for ice cream making never faded, and in 2019, he launched to Over Yonder brand through AMF Catering, using their kitchen as a commissary and selling through special events and online.
Over Yonder – Delightfully Crafted Ice Cream is focused on the production of chef-driven French-style ice cream made in Memphis, Tennessee. Over Yonder is the only craft ice creamery making this style of ice cream in the Memphis market. Headquartered in Memphis, the company has been offered in many local retailers with hopes of being in more locations permanently in the future. Online ordering and wholesale to other businesses will be a priority as well. We will also have a fleet of ice cream freezers that will be used remotely for golf tournaments, concerts, festival
About HOG WILD East, BBQ & Market
Now you can get the best Barbeque in Memphis just about any time you want at HOG WILD East, BBQ & Market. Pulled pork sandwiches, Better than Texas Brisket, smoked chicken salad, and the Original Barbeque Nacho, are just some of our hot, made-to-order offerings. Pick up some of your favorite items from our catering menu, such as Spinach and Artichoke dip, Hog Wild Chips, Duck Poppers! Dinner just got a whole lot easier with our 'Take and Bake' section.