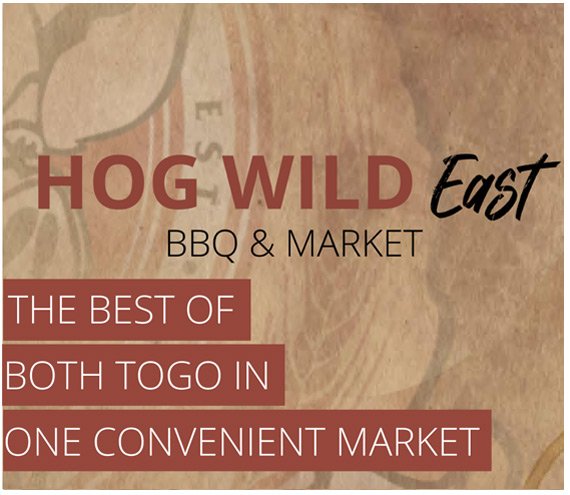 HOG WILD EAST, BBQ & MARKET
921 S YATES RD, MEMPHIS TN
(901) 305-6889
Tuesday thru Saturday – 11 am to 7 pm
HOG WILD has been catering in the Memphis area for over 20 years keeping alive a long tradition of Real Memphis Barbeque. Over the years Hog Wild and AMF worked literally thousands of events! So often people would ask, 'where's your restaurant? How can I get your barbeque?' The answer was always the same, 'we concentrate on catering we just don't have time to open a restaurant'. The best barbeque that you just can't get…
One day the world just about stopped and we found ourselves with the one thing we haven't had in 25 years, time. Large group gatherings became a thing of the past and catering as we knew it was over. See we are not just a company, we are a family. We lost a lot of family members in those uncentering times and we know we had to do something to keep going. With a prayer and a big dose of courage we hitched up our pants and made a big decision. It was time to open a restaurant!
HOG WILD East, BBQ & Market was born! A true labor of love, we have poured our hearts and soul to offer a new Barbeque concept to the Memphis market. Now you can get the best Barbeque in Memphis just about any time you want. Pulled pork sandwiches, Better than Texas Brisket, smoked chicken salad, and the Original Barbeque Nacho, are just some of our hot, made-to-order offerings! Additionally, you will be able to pick up some of your favorite items from our long and storied catering menu, Spinach and Artichoke dip, Hog Wild Chips, Duck Poppers are just a few of the items you can pick at Hog Wild East! We are also providing new menu items in our 'Take and Bake' section. Dinner just got a whole lot easier! What's dinner without dessert, how about Ice Cream! Pick up a pint or two of our Over Yonder Ice Cream in flavor combinations that will blow your mind!
Your support over the years has been and continues to be a god send! Every day we strive to make our products the best they can be! How? Through a combination of using the best possible product, hard work, and a true love for what we do! Tradition, that's what we have been about for over 20 years, now there's a new tradition in Memphis, HOG WILD East, BBQ & Market! Come see us!